Chronic kidney disease
Definition
Presence of kidney damage or decreased kidney function for three months with implication for health
GFR less than 60mL/min or
Proteinuria, albuminuria, renal tubular disorder or abnormalities detected by imaging or histology
CKD may lead into problems regarding
Excretion of urea/ creatinine/waste products
Electrolyte balance (Na+, K+, Ca2+, PO42-, Mg2+)
Acid-base homeostasis (HCO3-, H+)
Maintenance of extracellular fluid volume (and hence blood pressure)
Promotion of red cell production (via erythropoietin)
Vitamin D metabolism (and hence bone production)
GFR estimation (eGFR)
eGFR = kx height (cm)/ S-creatinine (mg/dL)
k=0.45 in infants, K=0.55 in children and adolescent girls, k=0.7 in adolescent boys
Classification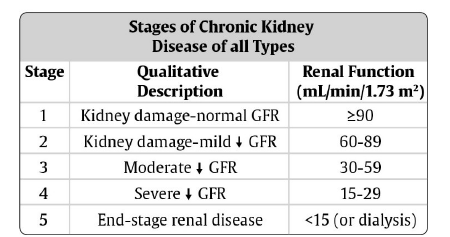 The staging cannot be used for children under two years of age because their normal range of GFR is lower than in older children.
Causes
Congenital anomalies

Obstructive uropathy
Renal hypoplasia
Reflux nephropathy
Polycystic kidney disease

Glomerular diseases

Primary glomerulonephritis: Focal segmental glomerulosclerosis (FSGS) is the most common glomerulonephritis causing CKD
Secondary causes: HIV nephropathy (stage four disease) and lupus nephritis

Hereditary renal diseases (cystinosis, oxalosis, Alport's syndrome)
Not resolved Acute Kidney Injury
Important points in history
Family history of renal disease or hypertension
Growth history
Polyuria (congenital anomalies) or hematuria (glomerulonephritis)
Elevated blood pressure (ask about headaches, seizures, visual disturbance)
Recurrent urinary tract infections
Unexplained anemia
Edema
Usually the child is asymptomatic until eGFR <30mL/min. Weakness, anorexia, vomiting, cognitive disturbance are signs of low eGFR
past medical history of

Urinary tract infections
Any serious illnesses
Family history
Important points on examination
Nutritional status, height, weight
Pubertal status
Blood pressure
Pallor
Signs of fluid overload
Bone deformities (Vit D
Signs of immunosuppression or multisystem disease (rash, arthritis)
Investigations
Urine dipstick
Creatinine, K and Na
FBC
Albumin
HIV-test, hepatitis B and C
Blood gases (acidosis?)
Calcium, phosphat, PTH, if possible (private laboratories do)
Cholesterol levels, if possible
Renal ultrasound (look for hydronephrosis, structural anomalies, inflammation, renal size)
Renal biopsy (very rarely possible)
Complications
Terminal decline in renal function with profound clinical deterioration
Fluid overload
Acidosis
Mineral and bone disorder
Growth failure, avascular necrosis, skeletal fractures and deformities, andvascular calcifications
Dyslipidemia
Left ventricular hypertrophy
Growth impairment
Platelet dysfunction - bleeding tendency
Uremic pericarditis
Treatment
Treat reversible causes
Obstruction
Stop nephrotoxic drugs (NSAIDs and tenofovir)
Prevent the progression of kidney disease
Blood pressure
Salt restriction
ACE-inhibitors, especially if proteinuria. Consider to stop if eGFR <30mL/min (risk of hyperkalemia – use only if K and Crea can be monitored regularly)
Calcium channel blockers (Nifedipine or Amlodipine)
Diuretics: First line Furosemide. HCT is not effective, if eGFR < 30mL/min. Avoid spironolactone (hyperkalemia)
Beta blockers (Atenolol)
Proteinuria
ACE-inhibitors. See above.
Treat the complications of CKD
Anemia
Rule out other causes of anemia
Iron supplements (CKD patients often have iron deficiency)
Consider Erythropoietin stimulating agents (EPO), if available
Blood transfusions
Hyperkalemia
Low potassium diet (avoid bananas, tomatoes, unboiled potatoes (K stays in potatoes if fried or baked - so boil first), citrus fruits)
Furosemide
Resonium (Sodium Polystyrene Sulfonate), if available
Acidosis
Sodium bicarbonate (or baking soda)
HCO3 goal is about 20mmol/L
Treating acidosis may decrease nausea and vomiting
Fluid overload
Salt restriction
Furosemide 0.5-2mg/kg
Hydrochlorothiazide, if eGFR > 30mL/min
Metabolic bone disease (treatment when eGFR < 30ml/min), mostly treatment only available only in private pharmacies
Low phosphat diet
Calciumcarbonate 500mg OD before/during meals to bind dietary phosphat
Vitamin D (ergocalciferol) 400 IU per day
If PTH is very high (>5 times upper limit) despite Ca and VitD substitution

Weight <10kg - 0.05 microgram every other day
Weight 10-20kg - 0.1-0.15 microgram per day
Weight 20kg - 0.25 microgram per day
If Dyslipidemia
Low fat, not long-chain triglycerides, but avoid malnutrition!!
Statins are not recommended for children under 10 years of age
Nutrition
Protein restriction is not recommended
Multivitamin
Psychosocial support, Umodzi involvement
Progression
More rapid if
Proteinuria
Hypoalbuminemia
Elevated blood pressure
Dyslipidemia
Anemia
Monitoring and follow-up
Children with CKD should be regularly checked for growth and well-being, blood pressure, anemia, and development of bone disease
Follow up visits in renal clinic
If CKD stage 4 or 5, refer to palliative care