Pneumonia
Important points in history
Cough

Duration(days)
Associated whooping/vomiting/cyanosis?

Fever
Breathlessness – what can they no longer do?
Eating/ drinking/ feeding
HIV status
Immunisation history
TB contacts
Prematurity/low birth weight
Cerebral palsy, other neuromuscular disease
Important points on examination
ABCs
Blantyre coma score
Hydration status
Head bobbing (in smaller children)
Grunting
Nasal flaring
Tracheal tug
Lymphadenopathy
Subcostal and intercostal recessions
Crackles
Bronchial breath sounds
Increased breath sounds (over consolidation)
Decreased breath sounds (over effusion)
Reduced air entry/ reduced expansion
Cyanosis and oxygen saturation
Finger clubbing
Tachypnoea (varies by age)
< 2 months
> 60 per minute
2-11 months
> 50 per minute
1-5 years
> 40 per minute
Severity
Pneumonia
Tachypnoea (by age as above)
Chest indrawing
Severe pneumonia
Cough or difficulty breathing +
Central cyanosis / oxygen saturations <90%
Severe respiratory distress (e.g. grunting, severe indrawing, head bobbing, nasal flaring)
Convulsions/ LOC/ feeding/ lethargy

If only cough (+/- fever) and no tachypnoea or indrawing, consider viral URI or differential diagnosis (as listed below)
It is difficult to tell bacterial / viral pneumonia apart either clinically or radiologically
Any child who looks toxic should receive antibiotics as this is more likely to be bacterial
Special points if under 2 months old
Always admit these babies!
Often Group B Streptococcus
Is this definitely pneumonia – could it be neonatal septicaemia?

Does this baby need an LP?
Investigations
MPS and PCV
CXR if not improving or deteriorating
Gastric aspirate or sputum if suspicion for TB
Blood culture isn't usually necessary. Consider if severely unwell, immunocompromised or other signs (eg neck stiffness)
Differential diagnosis of pneumonia
Foreign body – sudden onset, choking, stridor, focal wheeze
Pertussis – no or incomplete DPT, "whoops", well between bouts of cough, no fever
Tuberculosis – cough ≥2 weeks, weight loss, TB contact, night sweats
PCP – 2-6 months old, HIV exposed, clear chest, profoundly hypoxic, hyper- expanded chest
Other HIV related lung diseases – Kaposi's sarcoma, lymphocytic interstitial pneumonitis, chronic lung disease, CMV pneumonitis
Staphylococcal pneumonia – septic skin pustules. Cavitation on CXR. Consider flucloxacillin, but ceftriaxone will normally cover
Severe anaemia – pallor and tachypnoea with a clear chest
Acidotic breathing - from severe dehydration or local mankhwala
Cardiac disease – oedema, gallop rhythm, hepatomegaly, clubbed, murmur, displaced apex
Aspiration – patients with neuromuscular disease/CP, history of vomiting/choking, R lower lung findings. Consider adding metronidazole or using amoxicillin-clavulanate for po treatment
Treatment
See algorithm below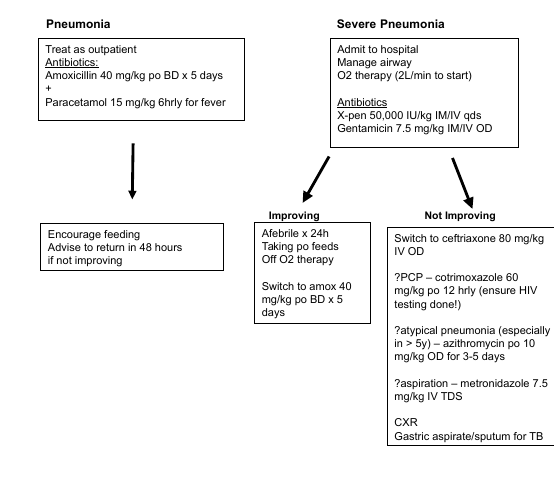 Supportive Care
Fever (>39 C) causing distress, give paracetamol
If wheeze is also present, trial of salbutamol nebuliser

< 4 years - 2.5 mg
> 4 years 5 mg

Daily maintenance fluids: oral fluids + feeds (will need more fluids if febrile)
NGT if child cannot drink/ breast feed
Viral infections won't respond to antibiotics. Treat the child, not just the temperature! If the child looks well, hold your nerve and don't change the antibiotics. Monitor closely.
Oxygen if saturations <90% on room air
If no pulse oximeter available, give oxygen to patients with increased work of breathing, any cyanosis, or increased respiratory rate.
Complications of pneumonia
Effusion/ empyema – stony dull, no air entry. Persistent fever with empyema (consider TB if you see these on X-ray)
Pneumothorax – tracheal deviation, hyper-resonance one side
When to discharge
Eating and drinking
Not in respiratory distress
No follow up needed for simple pneumonia