Trauma
Causes
Road traffic accidents: passenger in vehicle (restrained or un-restrained); cyclist vs. vehicle, pedestrian vs. vehicle
Falls: out of trees, off walls, into septic tanks
Crush injuries: buildings collapsing
Burns: electrical, fire, scalds, immersion, lightening
Drowning: rivers, septic tanks
Animal bites: dog, snake, hyena, crocodile
Inflicted injuries: beatings, stabbing, gun shot
Important points in the history
Age, name
Date and time of injury
Mechanism of injury: e.g. road traffic accidents: speed of vehicle, contact point, distance thrown; or fall: height of fall, how landed, what landed on
If drowning: length of immersion time
If animal bite: vaccine history
Events after injury:


Clinical: loss of consciousness and duration, seizure, vomiting, confusion, abnormal behaviour, bleeding, respiratory arrest
Treatment given

Last meal
Past medical history, social history, family history
Regular medication, immunisations
Allergies
Suspicion of non-accidental injury
Primary survey and emergency management
Airway
Jaw thrust - avoid "head tilt" in case of cervical spine injuries
Suction/ removal of foreign body under direct vision (e.g. loose teeth)
Oxygen via face mask - maximum flow available
If indicated: guedel airway
If indicated: intubation & ventilation
Cervical spine protection
Assume a cervical spine injury in any significant trauma
In-line immobilisation: using fluid bags and straps (see diagram)
Rigid collars are NOT used
If uncooperative/ combative C-spine immobilisation can be harmful
If significant concern about C-spine injury use log-rolls for position changes, to ensure spine kept in-line

C-Spine immobilisation
Stabilise the child's neck
Tape the child's forehead to the sides of a firm board
Prevent the neck from moving by supporting the child's head e.g. by using bags of IV fluid on each side
If vomiting use log roll to turn onto one side, keeping the head in line with the body
Breathing
If respiratory effort is inadequate - start bag mask ventilation
This child might need intubation and ventilation - Call for HELP!!!
Check trachea position
Check chest expansion and check for signs of thoracic injuries

Tension pneumothorax

Needle thoracocentesis: 2nd intercostal space, mid-clavicular line, above the rib
Chest drain insertion will be needed subsequently. Call for HELP!!! While this is being arranged continue with ABC assessment and management

Haemothorax

Fluid resuscitation/ transfusion
Chest drain

Rib fractures/ flail chest

Open thoracic injury (e.g. "sucking chest wound")

Dressing fixed on three sides
Consider the possibility of cardiac tamponade
Urgent echo
Pericardiocentesis if indicated
Consider other mediastinal injuries, disruption of great vessels, diaphragmatic rupture etc.
Indication for intubation and ventilation:
Persistent airway obstruction
Predicted airway obstruction (e.g. inhalational burn, severe facial trauma)
Loss of airway reflexes/ loss of consciousness
Inadequate respiratory effort or increasing fatigue
Disrupted ventilator mechanism e.g. flail chest
Persistent hypoxia despite oxygen administration
Severe traumatic brain injury
Resources for mechanical ventilation are limited
A pragmatic approach to intubation and ventilation is needed
Call for HELP - experienced paediatrician and/ or anesthetist
Note on the usage of drugs: we use ketamine as an induction agent. In traumatic brain injury the theoretical risk of increasing intracranial pressure is outweighed by the relative haemodynamic stability compared with the use of other induction agents.
Circulation
Direct pressure to any obvious visible external site of bleeding
Establish vascular access

Two 'large' peripheral IV cannulas
In the event of failure call for HELP

Intra-osseous cannulation of tibia - avoid injured limb
External jugular vein, central line (femoral vein etc.)
Cut down: cephalic vein (elbow)/ long saphenous vein (ankle)

Sample for cross-match, blood sugar, MPS & PCV
Assess: HR, central/ peripheral pulses, CRT, temperature gradient +/- pallor, BP (NB: hypotension is a very late sign of severe shock)

In case of signs of shock/ impaired perfusion

10ml/kg ringer lactate or normal saline bolus
Reassess and repeat fluid bolus if necessary
If 40ml/kg crystalloids have been administered - use blood transfusion if further fluid boluses are needed.
Consider type specific or O-negative blood in extreme emergencies
Contact surgical team early - especially if 20ml/kg do not stabilise the CVS
Consider thoracic (pneumothorax/ haemothorax), abdominal or pelvic bleeding (bed-side ultrasound scan - FAST scan)
Blood loss in case of femur fractures can be massive - alignment and traction needed
Disability
Assess level of consciousness: BCS or AVPU or GCS
AVPU

A Alert
V responds to voice
P responds to pain
U unresponsive

Glasgow coma scale (GCS)
>5 years
<5 years
Motor
Obeys commands (6)
Normal spontaneous movements (6)
Localises pain (5)
Withdraws to touch (5)
Withdraws to pain (4)
Withdraws to pain (4)
Flexion to pain (decorticate) (3)
Abnormal flexion (decorticate) (3)
Extension to pain (decerebrate) (2)
Abnormal extension (decerebrate) (2)
No response (1)
No response (1)
Verbal
Orientated (in person or place or address) (5)
Alert, babbles, words or sentences to usual ability (normal) (5)
Confused (4)
Less than usual ability, irritable cry (4)
Inappropriate words (3)
Cries to pain (3)
Incomprehensible sounds (2)
Moans to pain (2)
No response to pain (1)
No response to pain (1)
Eyes
Spontaneous (4)
Spontaneous (4)
To voice (3)
To voice (3)
To pain (2)
To pain (2)
None (1)
None (1)
Pupil size and reactivity to light
Focal neurology? Bleeding/CSF discharge from ear/nose?
Urgently contact senior surgeon in case of suspected intracranial haemorrhage
Discuss if MRI should be done before potential intervention
Basic management of traumatic brain injury to prevent secondary brain injury:

Adequate oxygenation
Control of CO2 tension - (intubation& ventilation might be needed)
Maintenance of adequate cerebral perfusion pressure (CPP): URGENT correction of shock: inotropes might be needed (ICU only)
Control of potentially raised ICP: consider mannitol: 250-500mg/kg (1.25 -2.5ml of 20% Mannitol) IV over 30-60 minutes
Control of hypoglycaemia, convulsions
Head up position (around 30 degrees)
Avoid aspiration: insert OGT and keep on free drainage
Avoid electrolyte imbalance (especially hyponatremia)

Isotonic fluids or blood for fluid resuscitation
Use ringer lactate/ normal saline & glucose for maintenance fluids
Exposure
Examine all parts of the body
Straighten fractured limbs +/- traction in case of a fractured femur
Provisional dressings of wounds/ lacerations
Other procedures & imaging
Emergency imaging if indicated:


Bedside ultrasound (FAST) scan
X-rays: skull, lateral C-spine, chest, pelvis, limbs (AP and lateral)
Patient MUST be stable before being transferred to radiology
MRI scan brain +/- spine (discuss with consultant)

Analgesia
Keep the child warm
In case of open wounds/ open fractures: tetanus toxoid and antibiotics
Secondary survey after management of ABCDE
Careful and quick "head to toe examination"
Reassess ABC & re-examine: thorax, abdomen, pelvis
Quick neurological exam:

Level of consciousness, pupils, movements, tone, reflexes
Fundoscopy if possible

Check for injuries

Face & skull - including maxillary/mandibular, dental injuries, check ears, nose, mastoid
Examine the back of the child. In case of potential spinal injury - the child needs to be "log-rolled" (see diagram)
Check for injuries/ wounds: skull, neck, thorax, lumbar area, pelvis
Check spine: in case of suspected acute spinal cord injury - high dose steroids should be started within 8 hours of the injury
Log Roll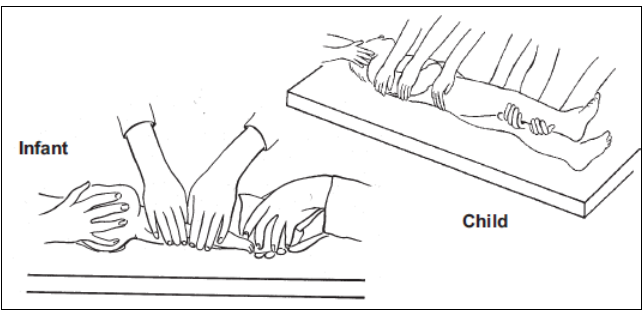 If requesting MRI of brain, also request MRI C-spine
Keep the head in a neutral position
Keep the head and body straight, avoid rotation or flexion/extension
The person holding the head is in charge: hold by placing palms on each side of head, with fingers on the jaw, (do not cover the ears).
Assistants hold the arms and legs (see below) to keep the body in line.
On the instructions of the lead person turn the patient onto their side to allow the back to be examined, or the patient to vomit
Guidelines for clearing a cervical spine
Remember- despite normal x-rays the child can have a spinal cord injury without radiological abnormalities (e.g. haematomas, ligament injuries) - SCIWORA
The child should be cooperative and alert
No midline cervical tenderness on direct palpation
No focal neurological deficit
No painful distracting injuries
Examination of limbs - signs of fractures?

In case of severely angulated fractures - alignment and splinting +/- traction
Any signs of open fractures?

In this case tetanus toxoid and IV antibiotics needed
Any deep wound within vicinity of a fracture could communicate with fracture

Any signs of compartment syndrome? Monitor perfusion and pulses
Any signs of vascular injury? Check perfusion and pulses
How to position the unconscious child
No Neck Trauma: Recovery Position
Turn the child on to their side to reduce the risk of aspiration
Keep the neck slightly extended and stabilise by placing the cheek on one hand
Bend one leg to stabilise the body position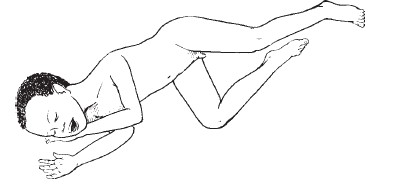 Transfer & further management
Reassess ABCDE regularly
Ensure adequate analgesia
Transfer to HDU, theatre, ICU, radiology department

Critically ill children need to be accompanied by nurse +/- doctor
Take resuscitation equipment with you
Use oxygen cylinder for transfer of sick children
Handover to receiving team

Regular monitoring on HDU, including "neuro-observations" in severely injured child
Signs of raised ICP due to cerebral oedema or intracranial haematomas (e.g. extradural) can present even hours after initial presentation
Encourage parents to alert nurses or medical team in case of any concern